What is Achlorhydria?
Achlorhydria is the absence or reduced secretion of hydrochloric acid in the stomach which can arise due to several underlying disease conditions, the most serious of which is stomach cancer.
Achlorhydria can occur in men and women of all ages, races and ethnic groups. Older people are especially susceptible to this condition.
Data on the prevalence of achlorhydria in the Indian population is very scanty. With reference to pernicious anemia, resulting from malabsorption of vitamin B12 the prevalence of achlorhydria is 5-10% on the Schilling test.
The stomach is a muscular digestive organ located on the left side of the upper abdomen. It receives food from the esophagus or food pipe that enters through the esophageal sphincter. The stomach wall consists of three layers of muscles (longitudinal, circular and oblique) that help to mix the food with the gastric juices, consisting of hydrochloric acid and digestive enzymes that help to digest the food. The inner side of the stomach is folded into muscular ridges called rugae that help to churn the food and convert it into a paste like consistency known as chyme. This chyme passes into the next part of the digestive tract called the duodenum for further digestion. The flow of chyme is regulated by the pyloric sphincter, located at the junction of the stomach and duodenum.
The major causes of achlorhydria include the following:
Pernicious Anemia: In this condition, antibodies are directed against the parietal cells of the lining of the stomach, which secrete hydrochloric acid and intrinsic factor. Binding of the antibodies to intrinsic factor results in malabsorption of vitamin B12, giving rise to pernicious anemia.
Hypothyroidism: This condition results in sluggish metabolism, which slows-down the functioning of the digestive glands, resulting in achlorhydria.
Advertisement
Medications: Medicines that act on the gastric glands such as antacids, H2-receptor antagonists and proton pump inhibitors (PPI) can cause achlorhydria.
Helicobacter pylori Infection: This is a bacterium that attacks the lining of the stomach, causing inflammation, technically termed as gastritis. This results in strong suppression of gastric acid secretion.
Atrophic Gastritis: In this condition the gastric glands become atrophied and can result in achlorhydria.
Stomach Cancer: This type of cancer can give rise to achlorhydria, which can be further aggravated by radiation therapy.
Sjögren's Syndrome: This is an autoimmune disease that destroys many of the enzymes responsible for moisture production in the body.
Gastric Bypass Surgery: Achlorhydria can be caused by surgical procedures such as duodenal switch or Roux-en-Y gastric bypass (RYGB) surgery that involves the removal or blinding of the acid producing parts of the stomach.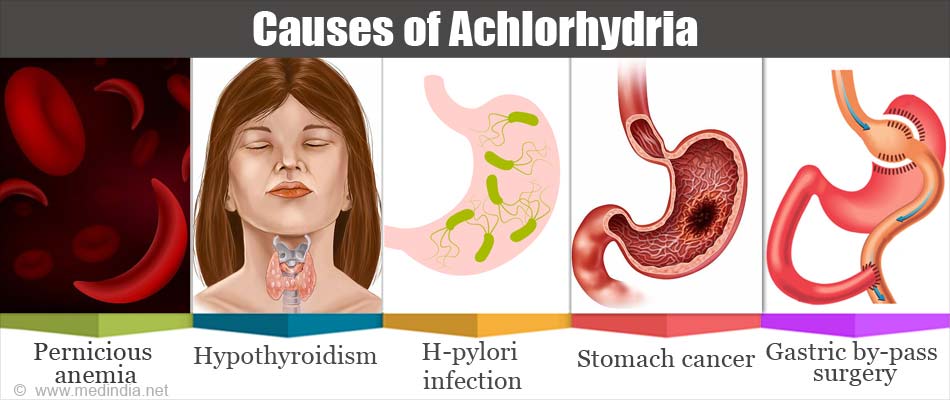 The major signs and symptoms of achlorhydria include the following:
Gastroesophageal Reflux Disease (GERD): This condition is also known as acid reflux and occurs due to a malfunction of the lower esophageal sphincter, as a result of which the gastric contents come back into the esophagus. This can cause heartburn and indigestion.
Weight loss
Diarrhea
Constipation
Nausea
Early satiety
Abdominal pain and bloating
Increased bowel movements
Hair loss
Brittle nails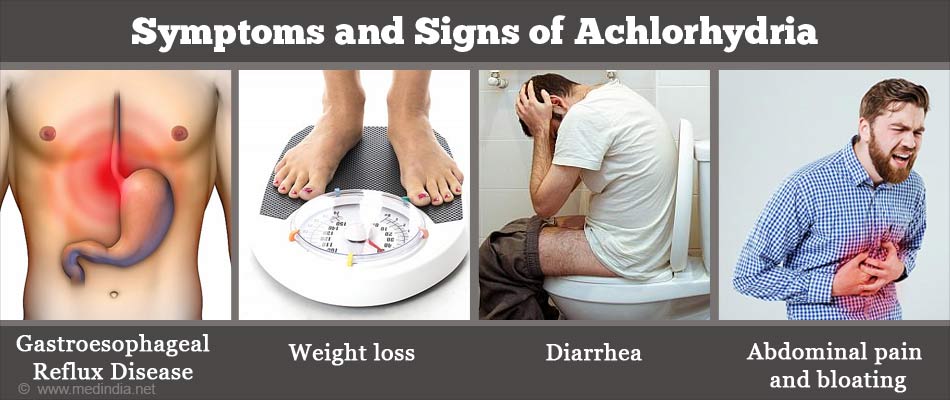 Some of the risk-factors of achlorhydria also overlap with its causes. Some of the major risk-factors include the following:
Age (above 60 years)
Autoimmune diseases e.g. autoimmune thyroid disease, Sjögren's syndrome
Prior gastric surgery e.g. RYGB weight-loss surgery
H. pylori infection
Hypergastrinemia i.e. elevated levels of gastrin in the blood
Gastric carcinoid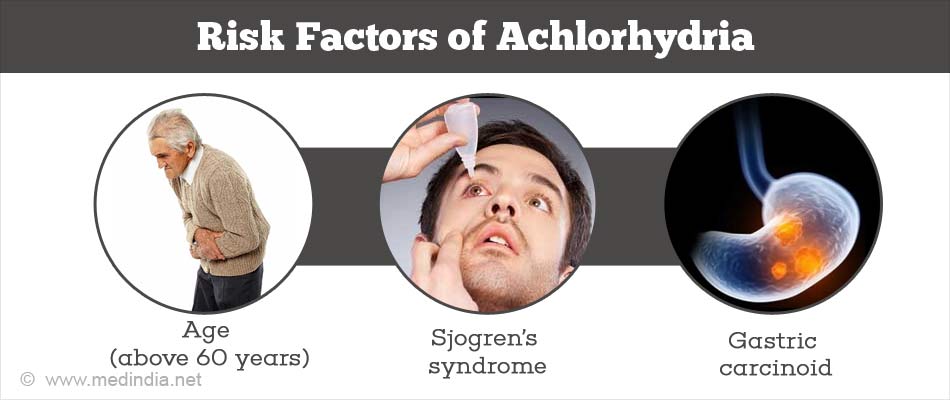 Diagnosis of achlorhydria can be made in a step-by-step manner, as highlighted below:
Medical History: A thorough medical history of the patient will help to identify pre-existing conditions that could facilitate the diagnosis. History of chronic PPI use, chronic H. pylori infection, prior gastric bypass surgery and autoimmune diseases would point towards achlorhydria.
Routine Tests: The following tests are usually ordered if the doctor suspects achlorhydria:
Hemoglobin Estimation: A decrease in hemoglobin level could be due to vitamin B12 deficiency or iron deficiency, which could indicate achlorhydria.
Stomach Biopsy: If the biopsy shows absence of parietal cell-containing oxyntic glands, this could indicate achlorhydria.
Intragastric pH Measurement: Measurement of the pH of the gastric juice is very useful for diagnostic purposes. The normal pH of the stomach secretions is around 1.5. A pH >6.0 is indicative of achlorhydria.
Specialized Tests: Some of the specialized tests that help to identify the underlying cause of achlorhydria are useful for initiating treatment measures. Some of these tests are briefly highlighted below:
Gastric Acid Secretion Test: The test measures the amount of gastric acid produced by the stomach, both in the fasting state as well as upon stimulation. The patient is injected with pentagastrin and samples are collected via a nasogastric tube. Achlorhydria is indicated if there is no acid production during fasting as well as after stimulation.
Gastrin Estimation: If serum gastrin levels are elevated above 400 pg/ml or even higher, sometimes reaching higher than 1000 pg/ml, then this is indicative of achlorhydria.
Parietal Cell Antibodies: These antibodies are present in 80% to 90% of patients with gastric atrophy.
Intrinsic Factor Antibodies: Intrinsic factor (IF) antibodies are detectable in the serum in about 30% of patients with gastric atrophy and up to 80% to 90% with pernicious anemia.
Tests to Detect Helicobacter pylori Infections: Active infections with H. pylori can be detected by several tests. These include Urea Breath Test, Histology, Rapid Urease Test, and Stool Antigen Test. Active as well as prior infections with H. pylori can be detected by Serology. Molecular tests such as the Polymerase Chain Reaction (PCR) and Fluorescence in situ Hybridization (FISH) give a positive test in case of infection with H. pylori.
The treatment modality depends on the cause of achlorhydria. Some of these treatment strategies are briefly highlighted below:
Helicobacter pylori Infection: Achlorhydria arising from H. pylori infection responds well to a course of antibiotics, which kills the causative bacterium. Therapy involves 10 days to 2 weeks of one or two effective antibiotics, such as amoxicillin, tetracycline, metronidazole, or clarithromycin, plus either ranitidine bismuth citrate, bismuth subsalicylate, or a PPI.
Pernicious Anemia: This anemia is associated with vitamin B12 deficiency. It is caused by an inability to absorb the vitamin B12 needed to make enough healthy red blood cells. Pernicious anemia is treated by injections of vitamin B12, which has been found to reverse the hematological abnormalities.
Bacterial Overgrowth: Bacteria constitute the normal intestinal flora. The normal bacterial count is <1x105 cfu/ml. If this becomes >1x105 cfu/ml, overgrowth is said to have occurred. Bacterial overgrowth and subsequent micronutrient deficiencies can occur in patients with achlorhydria. Bacterial overgrowth can be treated with antibiotics, such as metronidazole, amoxicillin/clavulanic acid, ciprofloxacin, and rifaximin.
Excessive Use of PPI: Long-term use of PPI such as omeprazole and rabeprazole significantly reduces gastric acid production, giving rise to achlorhydria. Discontinuation of the drug alleviates the condition. PPI-induced achlorhydria can also be corrected by hydrochloric acid supplements like betaine hydrochloride.
There are very few preventive strategies for achlorhydria. There is no primary preventive strategy. A couple of secondary preventive strategies do exist, although their usefulness and efficacy remain doubtful.
Prevention of Helicobacter pylori Infections: Improvements in sanitation and effective antibiotic therapies could reduce the incidence of atrophic gastritis and autoimmune gastritis, which are mainly responsible for causing achlorhydria. Other causes of gastritis include excessive use of non-steroidal anti-inflammatory drugs (NSAIDs) and alcohol abuse.
Reduction in Gastric Surgery: Limiting the number of surgeries for gastric ulcer is likely to reduce the incidence of atrophy, thereby preserving the antrum of the stomach, which is primarily responsible for secretion of gastrin.
References:
Roux-en-Y gastric bypass weight-loss surgery. -

(https://www.hopkinsmedicine.org/healthlibrary/test_procedures/gastroenterology/roux-en-y_gastric_bypass_weight- loss_surgery_135,65)

Gastric carcinoids: The American Association of Endocrine Surgeons. -

(http://endocrinediseases.org/neuroendocrine/gastric_carcinoid.shtml)

Gastric acid secretion test: National Cancer Institute, USA. NCI Dictionary of Cancer Terms -

(https://www.cancer.gov/publications/dictionaries/cancer-terms?cdrid=657844)

Gray GR, Gillespie G, Gordon I. Extragastric gastrinoma or G-cell hyperplasia of the antrum? The preoperative diagnosis in a case of hypergastrinaemia. Br J Surg. 1976 Aug; 63(8): 596-8. PMID: 953461
Sachdev AH, Pimentel M. Gastrointestinal bacterial overgrowth: pathogenesis and clinical significance. Ther Adv Chronic Dis. 2013 Sep; 4(5): 223–231. doi:

10.1177/2040622313496126
Latest Publications and Research on Achlorhydria
Please use one of the following formats to cite this article in your essay, paper or report:
APA

Dr. Kaushik Bharati. (2017, December 22). Achlorhydria - Causes, Symptoms, Risk Factors, Diagnosis, Symptoms, Treatment & Prevention. Medindia. Retrieved on May 19, 2022 from https://www.medindia.net/patientinfo/achlorhydria.htm.

MLA

Dr. Kaushik Bharati. "Achlorhydria - Causes, Symptoms, Risk Factors, Diagnosis, Symptoms, Treatment & Prevention". Medindia. May 19, 2022. <https://www.medindia.net/patientinfo/achlorhydria.htm>.

Chicago

Dr. Kaushik Bharati. "Achlorhydria - Causes, Symptoms, Risk Factors, Diagnosis, Symptoms, Treatment & Prevention". Medindia. https://www.medindia.net/patientinfo/achlorhydria.htm. (accessed May 19, 2022).

Harvard

Dr. Kaushik Bharati. 2021. Achlorhydria - Causes, Symptoms, Risk Factors, Diagnosis, Symptoms, Treatment & Prevention. Medindia, viewed May 19, 2022, https://www.medindia.net/patientinfo/achlorhydria.htm.
Do you wish to consult a Gastroenterologist for your problem? Ask your question
Dr. Deshmukh Parag
MBBS, MD, DNB, IDCCM, CCEBDM
5 years experience

Teleconsult Now
View Profile
Dr. Pankaj Kumar
MBBS, MD, DM Gastroenterology
10 years experience

Teleconsult Now
View Profile
View All