The most attractive aspect of our smile is our teeth, which shine like pearls. Or so, we hope. Over time and with consumption of varied products, many of us fail to preserve the natural white color of our teeth. In today's world, we have advertisements promoting the capability of several products to whiten teeth. Whitening of teeth is not permanent; instead, it has to be repeated often to maintain the color of teeth. This article aims to provide a few simple home remedies for whitening teeth.
Discoloring Agents of Teeth
A tooth has two layers, the outer enamel and the inner layer called dentin. The thickness and texture of enamel determine the color of the teeth. A thin layer of enamel, as seen with aging, exposes the dentin layer and makes the teeth appear yellowish. Other common causes of tooth discoloration are:
Coffee, Tea - Black coffee or black tea stains teeth, when the mouth is not rinsed, after consuming these drinks.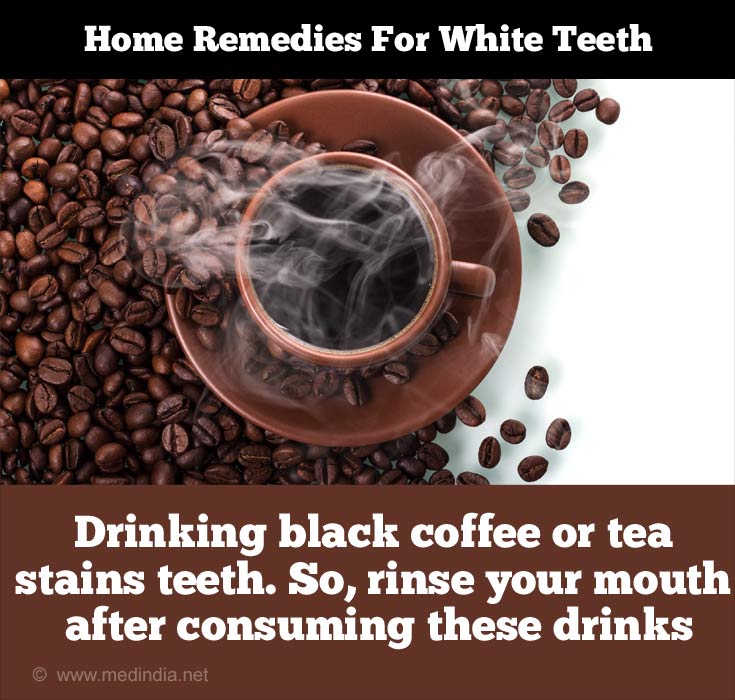 Grape juice, blueberry juice, red wine, blueberries - Grapes and blueberries are rich in antioxidants but, they also stain teeth with their intense color. The mouth needs to be rinsed soon after consuming these products, to avoid staining teeth.
Energy drinks - Teeth are stained by consuming energy drinks, which are high in sugars. The mouth needs to be rinsed immediately, and one must not sip or drink slowly.
Cigarettes - Smoking causes nearly permanent discoloration of teeth. Constant smoking causes damage to gums (e.g., gingivitis) and increases bad breath.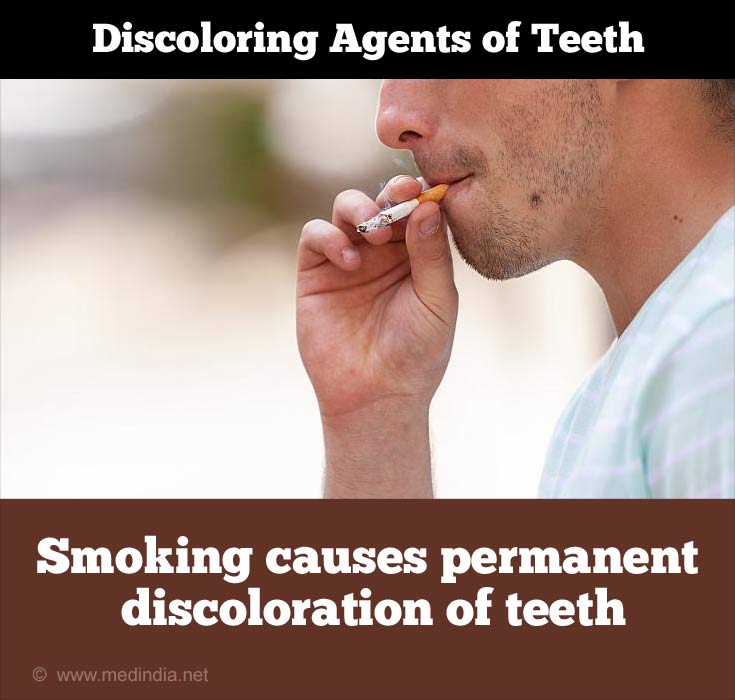 Medications - Antihistamines, antibiotics like tetracycline, blood pressure medications, and antipsychotic drugs, can cause discoloration of teeth. Antibacterial mouthwashes with cetylpyridinium chloride or chlorhexidine can also stain teeth.
Advertisement
Tips to Maintain White Teeth
Brush teeth daily - When one brushes teeth regularly, in the morning and evening, the discoloring effect of certain dietary components are taken care of. In toothpastes chemicals and mild abrasives are used to remove surface stains and whiten teeth. One should brush teeth soon after consuming food, which potentially stains. Floss teeth, at least once, daily.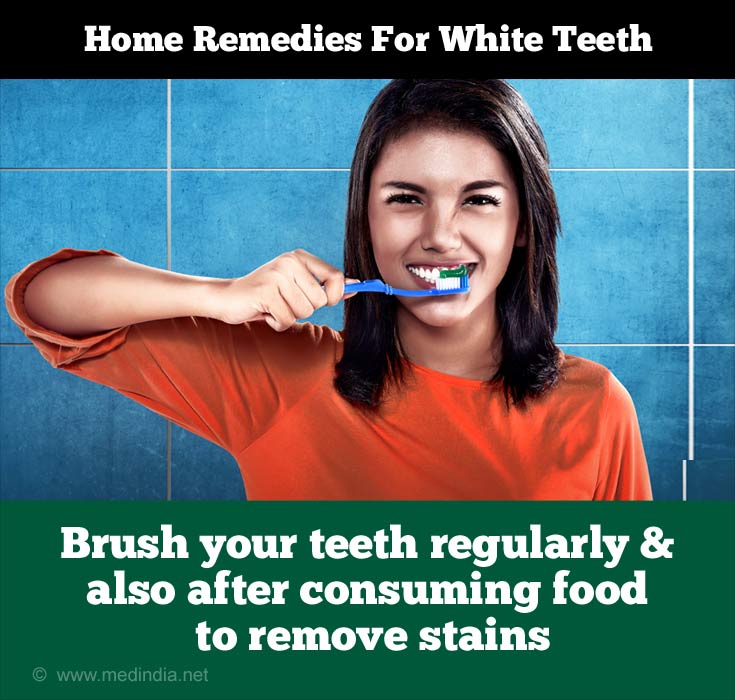 Strawberries - An enzyme, malic acid, present in strawberries is known as a natural whitener. Strawberry pulp or halved strawberries can be rubbed onto teeth and left for a minute before washing. This helps teeth to whiten. The natural fiber of strawberries promotes the whitening process, by removing bacterial growth within the gums of teeth.
Baking soda - Brushing teeth with a small amount of baking soda helps whiten teeth. Baking soda counters the acidity in teeth and buildup of enamel. It is recommended that teeth be brushed with baking soda at least twice a month, similar to the cleaning performed by the dentist. Toothpaste has baking soda as a component. However, baking soda is unable to whiten artificial teeth.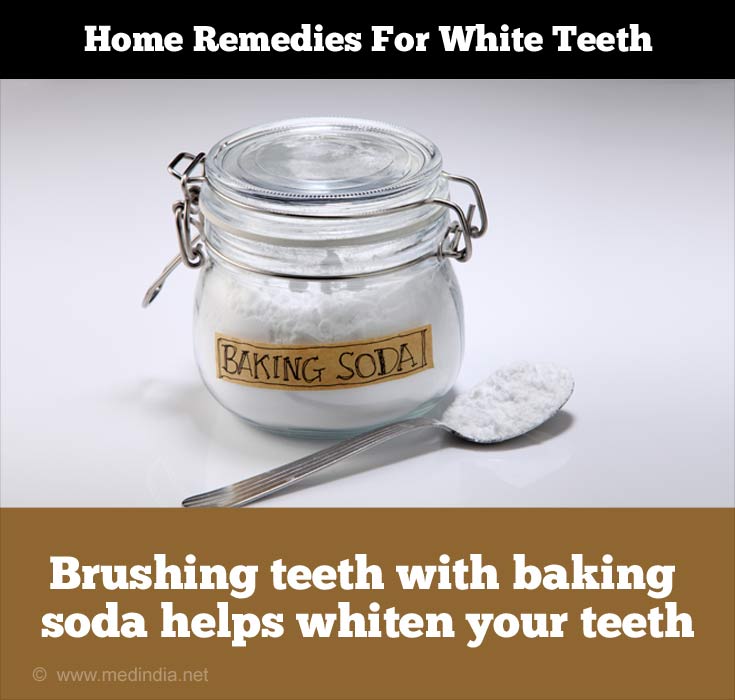 Carrots, celery, and apples - These natural foods generate a lot of saliva, which neutralizes the acidity within teeth, and retards the discoloration process. Apples, carrots, and celery are rich in vitamin C, and prevent gingivitis and gum disease.
Sugarless gum - Chewing sugarless gum generates a lot of saliva, which acts as a natural cleanser for teeth.
Advertisement
Milk products - Yogurt and cheese are useful products in maintaining the color and health of teeth. Hard cheese (e.g., cheddar) is useful in removing other food particles lodged in the gums. Milk products have lactic acid bacteria, which prevent gum disease and maintain teeth. The Vitamin D and calcium in milk products enhance jawbone development and fortify teeth.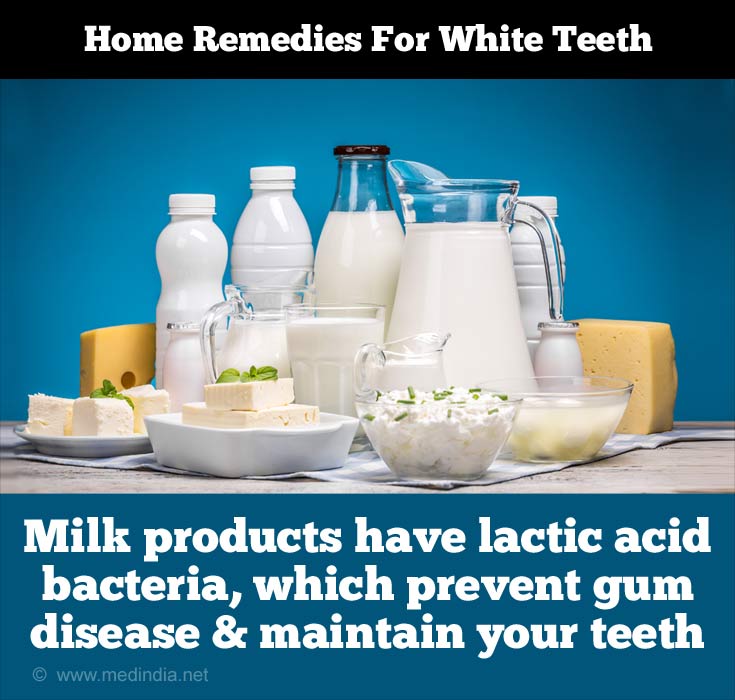 Citrus fruits - Oranges, lemons, and pineapples are another source of teeth whiteners. Rubbing lemon juice on teeth helps in teeth whitening. Drinking a mix of equal proportions of lemon juice and water, once or twice a week only, helps in maintaining white teeth. The regimen should not be increased for fear of increasing the acidity within teeth. Oranges and pineapples increase saliva production, which helps in naturally cleaning out the teeth and gums.
Hydrogen peroxide - It is recommended that individuals rinse their mouth with a 50:50 mix (1 tablespoon each) of hydrogen peroxide and water, at least twice a month. The antiseptic action of hydrogen peroxide prevents the growth of bacteria, promoting clean breath and whiter teeth. Rinsing with the 50:50 mix of hydrogen peroxide and water should be done for a minute and then spat out. The remnant mix should be left in the mouth for another minute before rinsing.
Kits for whitening teeth - Home-based kits for whitening teeth contain carbamide peroxide, for removing surface and deep stains on teeth. While some kits require you to apply a gel to the teeth, others contain the gel in molds that can be applied to teeth and removed after 45 minutes. Use of these kits, once a day, for a week, has the desired effect of whitening teeth.
Advertisement
Whitening strips - Teeth whitening strips are thin, transparent, and coated with a peroxide gel. Application of the strips daily, for a few minutes, can produce the desired effect. Application for a week or more will produce white teeth that can last for almost a year, if appropriate care is taken with the diet consumed.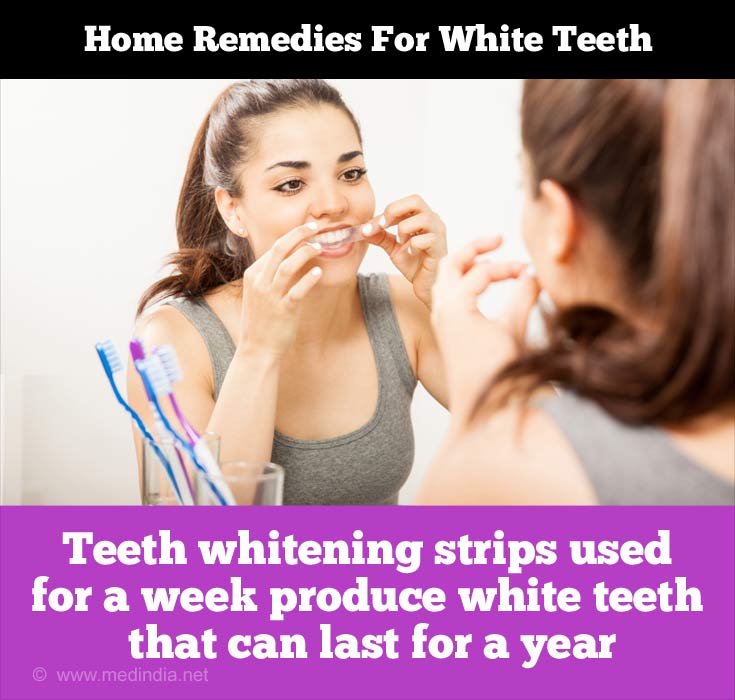 Use of a straw - When sipping liquid that stains (e.g., red wine, grape juice, coffee), it is recommended that a straw be used. This avoids contact of the discoloring fluids with teeth.
Visit your dentist regularly - A regular visit to the dentist to get your teeth cleaned helps in maintaining dental health. Cleaning clears out the stains of food and bacterial growth present within teeth.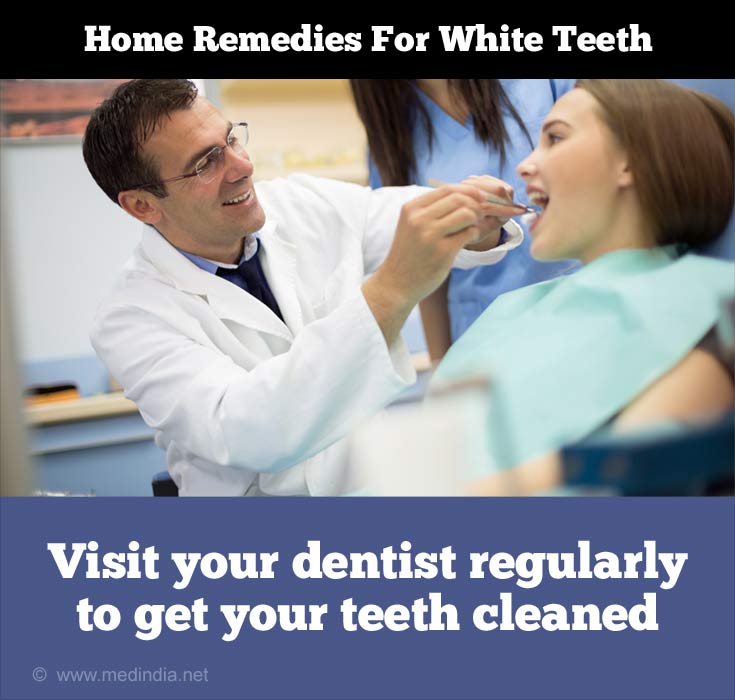 Risks of Teeth Whitening
Whitening of teeth does not pose risks; however, pregnant women are advised to refrain from whitening teeth until the child is born. People may have sensitive teeth or gums following whitening of their teeth.