What is Oral Thrush?
Oral thrush is an infectious disease that affects the lining of the mucosa around the tongue, gums, and inner cheeks. It is caused by a
yeast called Candida albicans
that affects infants usually. Adults may also get affected by this infection due to other underlying medical conditions. It is also called
oral candidiasis.
Advertisement
What are the Causes of Oral Thrush?
Oral thrush mostly affects infants as they tend to have a weaker
immune system
. Candida albicans is a common fungus found in the skin, the mucous lining of the mouth and intestine. But sometimes it can overgrow and cause white milky lesions on the mucosa, which are painful.
People with weakened immunity
and suppressed digestive system are more prone to this disease. The disease can spread from the baby to the mother during
breastfeeding
. The yeast grows around the nipple and causes severe
pain deep within the breast
.
Advertisement
Adults are more susceptible to oral thrush infection if they experience any of these diseases like
AIDS
, diabetes,
asthma
, etc. Excessive smoking,
overuse of antibiotics
can reduce immunity, therefore, increasing the risk of infection. Over the counter treatment for oral thrush includes
antifungal drugs
. One must always consult a doctor if an infant develops a thrush and take proper medication.
Advertisement
Home Remedies for Oral Thrush
Though medicines can treat the infection, they may cause side effects in babies and immune-suppressed people. Therefore, one can try using these natural remedies to treat oral thrush effectively at home,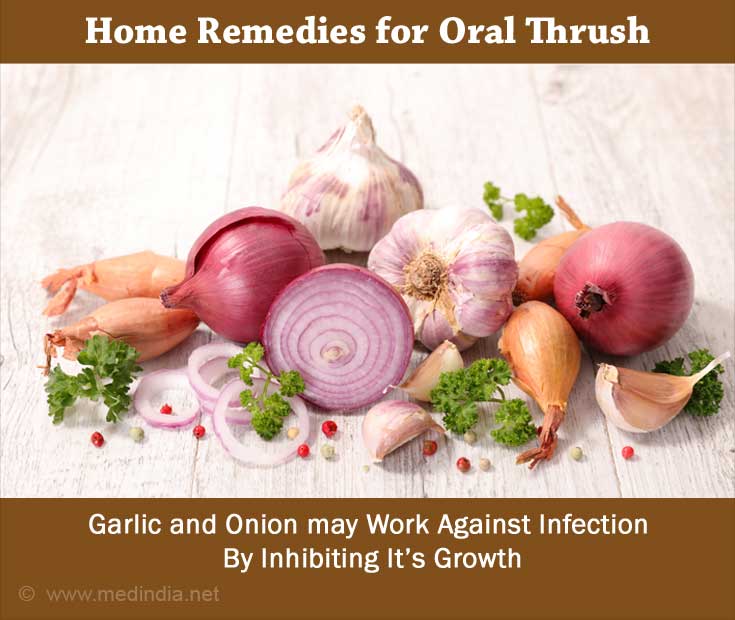 Health Tips
Contaminated dentures are a common cause of oral thrush in adults. Maintain its hygiene to avoid any fungal infections. Clean dentures by soaking them in chlorhexidine solution overnight to prevent yeast infections
Avoid fermented foods like bread, wine, beer as it can worsen the oral thrush
Breastfeeding mothers should use nursing pads to avoid contamination
Ensure proper cleaning of feeding bottles regularly
Wash your mouth and brush your teeth after using asthma inhalers
These home remedies can prevent and also treat oral thrush. Ensure good oral hygiene to stay away from
yeast infections
.