About
Are you one of those people who care for oral hygiene as much as you care for the rest of your body? Is oral hygiene a part of your grooming? Whatever your habit, please read on to find out more about oral health and the ways and means to sustain it!
About Visiting the Dentist
It is commonly recommended that you visit the dentist twice a year to clean your teeth and gums and also do the basic check –ups. This helps to detect signs of oral illness or decay well in advance and initiate treatment at the earliest.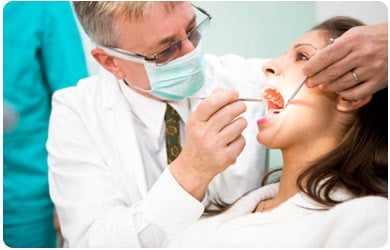 However, some individuals with certain illnesses such as gum disease and plaque build- up, cavities or a weakened immune system may need to visit the dentist for more number of times than recommended in order to obtain optimum benefits.
Sometimes excessive stress can cause a flare of infection or bring about certain unprecedented changes in the mouth. Such situations too warrant a greater number of visits to the dentist.
People who have been diligent with regard to oral hygiene may not find the need to visit a dentist twice a year. They may consult their dentist as to what is best suited for them.
Dental Check-ups
The following are some of the procedures that take place during dental health check-up:
Advertisement
Exams and treatment - The dentist may begin by enquiring about your general health. An initial exam of gums and teeth will be conducted and you will be asked questions about your existing dental care. Your medical documents will be checked and the medicines that you are already taking will be examined. They will also look out for dental diseases and recommend treatment if necessary.
Cleaning - A thorough cleaning by a dentist or a dental hygienist, using metallic hand instruments or ultrasonic scalers, is necessary to remove the hardened plaque that may have accumulated on the teeth. This method of deep cleaning thoroughly removes all the debris from above and below the gum line.
Polishing - Once teeth are cleaned, they are polished to remove stains on the tooth surface. The polish constitutes of an abrasive substance and fluoride. It is applied with the help of a small rotating rubber cup or brush attached to a dental hand piece.
X-rays and Treatment - X-rays may be taken if your dentist thinks it is necessary. If a problem is identified then the dentist might recommend an appropriate treatment or he may even refer you to another dental health care specialist for further review or advice.
Prevention - During a dental health check up the dentist would also give you tips on brushing, flossing and other dental care that you may even follow at home.
Advertisement
Examining for first timers
If you are a first timer some of the highlights include:
Head and neck exam - Your dentist may examine your head and neck and also look out for swelling or tenderness in lymph nodes or salivary glands.
Soft tissue exam - The soft tissues inside the mouth, lips, tongue, cheek, floor of the mouth, throat and tonsils will be examined.
Gum Disease detection -Your dentist will look out for puffy or bleeding gums and if gum disease is identified they may refer you to a periodontist.
Occlusion -Your dentist will also analyze the synchrony between the upper and lower teeth.
Teeth Exam -Your dentist will also examine the surface of every tooth with probes and look out for signs of decay. Some of these probes may make you uncomfortable but devices like diagnodent, which is a laser-device, are very gentle and can easily detect tooth decays.
If you are one of those who fear visiting the dentist, this is the time for you to get rid of that fear make that visit, if you value your health and desire to safe guard it.
Please use one of the following formats to cite this article in your essay, paper or report:
APA

Dr. Reeja Tharu. (2014, August 05). Dental Check-Up. Medindia. Retrieved on Nov 28, 2022 from https://www.medindia.net/health-screening-test/dental-check-up.htm.

MLA

Dr. Reeja Tharu. "Dental Check-Up". Medindia. Nov 28, 2022. <https://www.medindia.net/health-screening-test/dental-check-up.htm>.

Chicago

Dr. Reeja Tharu. "Dental Check-Up". Medindia. https://www.medindia.net/health-screening-test/dental-check-up.htm. (accessed Nov 28, 2022).

Harvard

Dr. Reeja Tharu. 2021. Dental Check-Up. Medindia, viewed Nov 28, 2022, https://www.medindia.net/health-screening-test/dental-check-up.htm.
Latest Publications and Research on Dental Check-Up
Do you wish to consult a Dentist for your problem? Ask your question
Dr. Safia Mohammed
BDS
6 years experience
CDC, Tolichowki , Hyderabad
Dr. Harita Pottam
BDS
2 years experience

Dr. Shrasta Sajeev
BDS
3 years experience

Dr. Anjan Venkatesh
Bachelor of Dental Surgery
2 years experience

View All