Introduction To Infertility
Infertility is a condition of reproductive system in which an individual is unable to conceive. In other words, it is a condition that prevents conception even after 12 or more months of unprotected sexual intercourse or when a woman is unable to carry her pregnancy to full term.
Conception is the meeting between the egg and the sperm. If the quality, composition and the overall health of the sperm or egg is poor, it can lead to difficulty in conceiving.
Female Infertility Occurs
When the mature egg is not released by the ovaries and is not available for fertilization
There is damage to the fallopian tubes (path via which egg travels from the ovaries to the uterus)
Problems occur with the cervix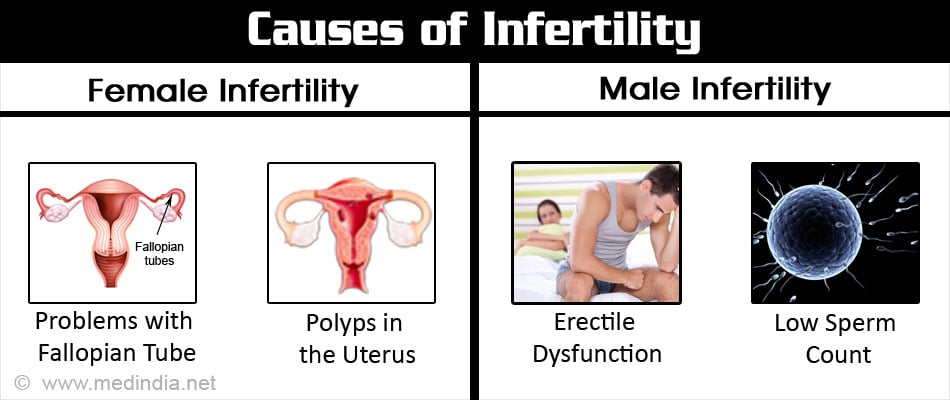 Male Infertility Causes Include
Sperm transport disorder
Low sperm count
Swelling of the veins in the scrotum
Premature ejaculation
Nature has a cure for many of our diseases. It holds good for infertility also. Foods such as shell-fish, nuts, seeds contain zinc - a key nutrient that facilitates ovulation. Antioxidants rich in fruits and vegetables, iron rich foods also boost fertility.
Increase Your Intake Of Iron-Rich Foods
Research has found that women who consumed iron supplements and plant-based iron foods were at a lower risk of infertility by 40%. Iron improves the health of baby-producing eggs and thus enhances overall fertility in females.
Iron is also needed for the production of female sex hormones, namely- estrogen and progesterone. However more evidence is required to confirm whether iron supplements should be taken by females with healthy iron levels.
Pair plant based iron foods with vitamin C rich foods to boost the absorption of iron. Foods rich in iron include - organ meat, sea food, spinach, sesame seeds, pumpkin seeds, lentils, beans and iron fortified bread and pasta.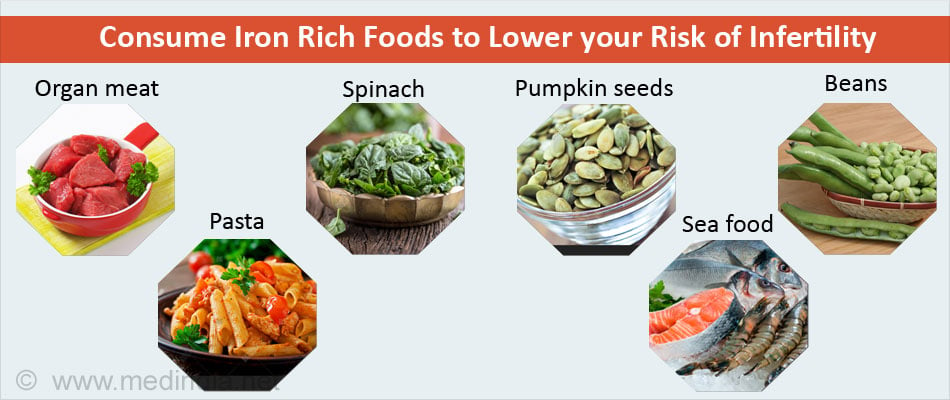 Pack Your Diet With Antioxidants
High level of oxidative stress destroys the health of sperms and eggs and prevents conception. Several studies have even revealed that presence of oxidative stress could lead to infertility. Antioxidants present in various foods can inhibit oxidative stress and improve overall reproductive health.
Research has found that deficiency of a potent antioxidant- vitamin E leads to poor growth of fetus during pregnancy. This can further lead to loss of pregnancy. Furthermore, intake of antioxidant-rich diet improves sperm quality as well as pregnancy rate.
Green tea, dark chocolate, berries, nuts, whole grains and citrus fruits are packed with antioxidants.
Omega-3 Fats to Your Diet
Omega-3 fat is a type of healthy fat which you would not wish to cut back on. There are numerous studies that reveal the beneficial effects of omega-3 fat on heart. But new studies are now even coming up with the positive effects of omega-3 consumption on fertility. Fatty fish such as salmon, mackerel, herring and tuna, flaxseeds and flaxseed oil, Chia seeds, walnuts, soyabeans are rich in omega-3 fatty acids.
Omega 3 fat plays a key role in reproductive health via these mechanisms:
DHA (docosahexanoic acid) is an omega-3 fat which is essential for movement and sperm motility and for successful fertilization.
Omega-3 works by improving the overall sperm count.
It further improves the integrity of sperm DNA, modifies the composition of sperm and thus boosts sperm quality.
Omega 3 fat present in fatty fish or fish oil has a positive effect on testosterone (male sex hormone) secretion.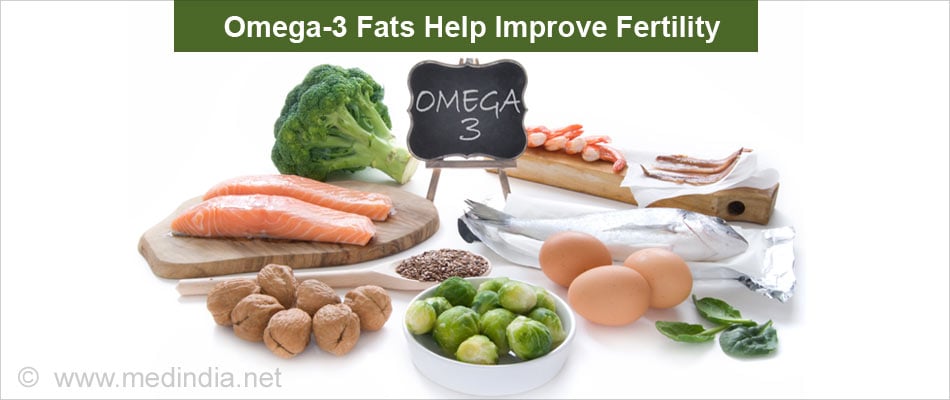 Increase Your Protein Intake
Research has found that high protein intake influences reproductive parameters. Replacing carbohydrates with plant or animal protein sources lowers the risk of infertility in females.
Higher intake of soy protein is associated with improved egg quality. A high protein-low carbohydrate diet is associated with weight loss in overweight females. Such a weight loss influences good reproductive health and leads to successful fertilization. Foods rich in protein include:
Plant-based sources- Beans and pulses, milk, curd, cheese, nuts, soybean and tofu.
Animal-based sources- poultry, meat, sea food, eggs.
Say Yes To Vitamin D Rich Foods
Vitamin D deficiency is a predictor of low pregnancy rates. Research has revealed that deficiency of vitamin D in females is associated with fibroids in the uterus, a main reason for infertility. On the other hand, deficiency of vitamin D in males is associated with:
Low sperm count
Less movement of the sperms
Poor quality of sperms
In females with PCOS, vitamin D reduces insulin resistance and secretion of male sex hormones. Thus, it improves health of the ovaries and boosts fertility.
Though sunlight is the best source of Vitamin D, certain foods such as organ meat, egg yolk, fatty fish such as salmon, mackerel and tuna, dairy foods and vitamin D fortified cereals, juices.
Eat Foods Rich In Zinc
Zinc is a trace mineral which is essential for normal functioning of reproductive system in males. Low intake of zinc rich foods is associated with poor quality of sperms and male infertility.
During zinc deficiency, free radicals (harmful substances) can attack the sperms and can lead to inferior composition of sperms. Because zinc is a natural antioxidant it protects the sperm against free radical attack.
Adequate consumption of zinc-rich foods is associated with increased semen volume and better sperm movement. Foods rich in zinc include: seafood, nuts, oilseeds, spinach, wheat germ, chickpeas, mushroom and chicken.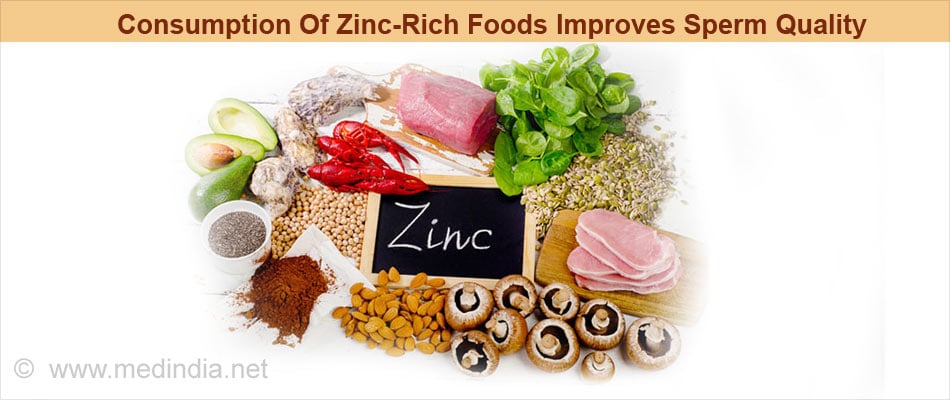 Eat Healthy Carbs
The quantity and quality of carbohydrates can influence reproductive health. High level of insulin leads to increased production of male sex hormones in females. Consumption of sugar-laden and processed foods can increase the release of insulin. Thus, consuming a high amount of refined or processed foods and increased sugar intake is associated with ovulatory infertility.
Insulin resistance and high blood glucose levels can negatively affect fertility. Intake of fiber-rich carbohydrates maintains a balance between insulin and glucagon and keeps up the blood glucose levels within normal range.
Healthy sources of carbohydrates include:
Whole grains such as wheat, brown or red rice, millets, quinoa, broken wheat, sorghum, oats and barley
Pulses, beans and lentils
Whole fruits and vegetables
The type of food you eat and overall lifestyle has a huge impact on fertility. Numerous studies have revealed that a balanced and wholesome diet can improve fertility. The foods we eat are the building blocks of hormones. The nutrients which you get from the food you eat protects the sperm and egg and improves the ovulatory function. In order to boost reproductive health you need to make certain dietary changes:
Avoid Trans Fat
Trans fat is a group of unhealthy fat that is extremely harmful for overall health. Consumption of trans fat is associated with inflammation and insulin resistance, the major risk factors for infertility. Thus, women planning to become pregnant should avoid trans fat and replace it with other healthy fat options. Food sources of trans fat include:
Cakes and pastries
Biscuits and cookies
Pie
Margarine
Doughnuts
Maintain Healthy Weight
Being overweight or obese has a negative impact on female reproductive health. The rate of pregnancy in such females is lower and it may even lead to early pregnancy loss. Gradual weight loss helps to regularize menstrual cycle and thus improves fertility. Studies have revealed that 5% weight loss in overweight females:
Decreases the secretion of male sex hormones in females
Lowers insulin resistance
Increases the frequency of ovulation
Thus maintaining a balanced diet and regular exercise can help in weight loss which will further improve fertility.
Cut Down on Caffeine
Research has found that a very high intake of caffeine can delay pregnancy. However more studies are required to confirm this negative effect of caffeine intake on pregnancy. Females trying to get pregnant should limit their overall caffeine intake. Tea, coffee, colas and energy drinks are some sources of caffeine.
Avoid Smoking
Many studies have observed that cigarette smoking increases the risk of male infertility. Smoking increases oxidative stress which can have devastating effects on sperm count, composition and it may even impair sperm function.
Infertility was also observed in females who smoke cigarette. Heavy smokers experienced higher infertility than did light smokers.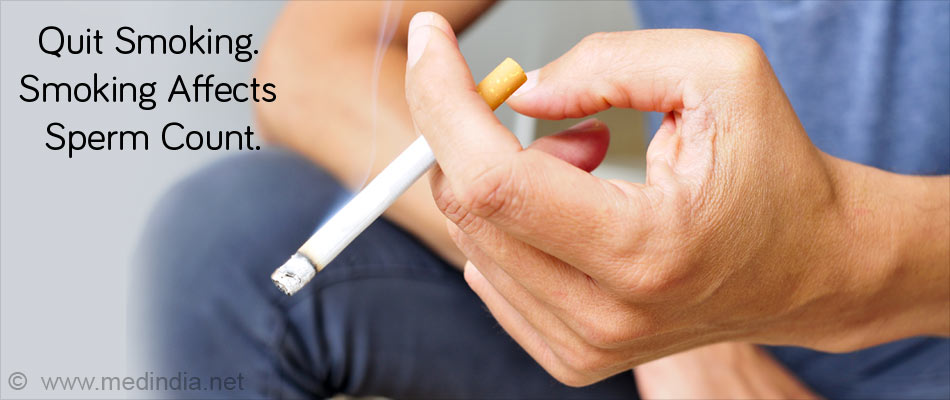 Childlessness or infertility has serious health and social implications. Such a condition can affect the relationship between couples and may even lead to depression. But the good news is that, certain foods contain key nutrients which can improve fertility and in turn increase the chances of pregnancy.
References:
High Prevalence of Vitamin D Deficiency in Infertile Women Referring for Assisted Reproduction -

(https://www.ncbi.nlm.nih.gov/pmc/articles/PMC4690068/)

The Role of Vitamin D in Reproductive Health—A Trojan Horse or the Golden Fleece? -

(https://www.ncbi.nlm.nih.gov/pmc/articles/PMC4488777/)

Therapeutic effects of calcium & vitamin D supplementation in women with PCOS -

(https://www.ncbi.nlm.nih.gov/pubmed/22500844)

Zinc levels in seminal plasma are associated with sperm quality in fertile and infertile men -

(https://www.ncbi.nlm.nih.gov/pubmed/19285597)

Zinc levels in seminal plasma and their correlation with male infertility: A systematic review and meta-analysis -

(https://www.ncbi.nlm.nih.gov/pmc/articles/PMC4773819/)

The impact of female obesity on the outcome of fertility treatment -

(https://www.ncbi.nlm.nih.gov/pmc/articles/PMC3066074/)

Dietary fatty acid intakes and the risk of ovulatory infertility -

(http://ajcn.nutrition.org/content/85/1/231.long)

Dietary fatty acid intakes and the risk of ovulatory infertility -

(https://www.ncbi.nlm.nih.gov/pmc/articles/PMC2970793/)

Caffeine intake and delayed conception: a European multicenter study on infertility and subfecundity. European Study Group on Infertility Subfecundity -

(https://www.ncbi.nlm.nih.gov/pubmed/9054236)

Smoking and Male Infertility: An Evidence-Based Review -

(https://www.ncbi.nlm.nih.gov/pmc/articles/PMC4709430/)

Cigarette Smoking Associated With Delayed Conception -

(http://jamanetwork.com/journals/jama/article-abstract/398676)

A prospective study of dietary carbohydrate quantity and quality in relation to risk of ovulatory infertility -

(https://www.ncbi.nlm.nih.gov/pmc/articles/PMC3066074/)

Iron intake and risk of ovulatory infertility -

(https://www.ncbi.nlm.nih.gov/pubmed/17077236)

Oxidative stress and antioxidants: exposure and impact on female fertility -

(https://www.ncbi.nlm.nih.gov/pmc/articles/PMC2772106/)

Antioxidants and infertility treatment, the role of Satureja Khuzestanica: A mini-systematic review -

(https://www.ncbi.nlm.nih.gov/pmc/articles/PMC4216437/)

Protein intake and ovulatory infertility -

(https://www.ncbi.nlm.nih.gov/pmc/articles/PMC3066040/)
Latest Publications and Research on Top Foods To Improve Fertility