What is Kombucha Tea?
Kombucha tea is a refreshing beverage that is consumed all around the world. It is a fermented concoction that is made up of tea (green tea or black tea), white sugar, bacteria and yeasts. Kombucha tea is slightly acidic and sweet and it tastes like sparkling apple cider vinegar.
Kombucha is native to northeast China where it is used for its energizing and detoxifying properties. It then gained popularity in different parts of the world such as Russia, Germany, France and North Africa.
This fermented beverage has various medicinal properties and high nutritive value. However, if kombucha is fermented for a longer period, it produces high levels of acid that can have negative effects on health when consumed.
Research has revealed that kombucha tea has various desirable positive health benefits. It was further reported that kombucha tea is a potent therapeutic supplement that prevents heart disease, improves resistance against cancer, boosts immune system and reduces inflammation.
Nutrient Profile
Kombucha tea is loaded with various healthy compounds that promote good health. It contains an array of organic acids beneficial for the body such as citric, malic, tartaric, oxalic, malonic, L-lactic, gluconic, succinic, usnic and glucoronic. These organic acids are produced during the process of fermentation.
Besides this, kombucha contains fructose, glucose and sucrose and certain vitamins such as vitamin C, B1, B2 and B6. Kombucha tea contains certain minerals such as sodium, potassium, copper, manganese and zinc and a decent amount of polyphenols.
Controls High Blood Glucose Levels
Research has found that kombucha tea possesses anti-diabetic potential. á-amylase is an enzyme secreted by the pancreas which breaks down the starch into simple glucose molecules on digestion. This glucose then enters into the blood and is further used as a source of energy.
Inhibition of á-amylase activity helps in the control and prevention of post-meal hyperglycemia. Such an effect of kombucha tea is attributed to the presence of polyphenols in it.
High blood glucose levels for prolonged periods of time can lead to increased oxidative stress and reduces the activity of antioxidant defense system. Studies have revealed that kombucha is a strong antioxidant agent that alleviates oxidative stress. It further reduces complications associated with diabetes mellitus.
Lowers High Cholesterol Levels
Studies have revealed that kombucha tea possesses anti-lipidemic properties. Lipase is an enzyme secreted by the pancreas which breaks down lipid in free fatty acids. Kombucha tea reduces the activity of lipase and thus lowers the absorption of cholesterol and triglycerides.
Polyphenols (healthy compounds) present in kombucha tea enhance the inhibition of lipase and thus help in the management of dyslipidemia. In addition to this, kombucha tea contains antioxidants that prevent the reaction between free radicals and LDL cholesterol. This reduces the overall damage to tissues and organs.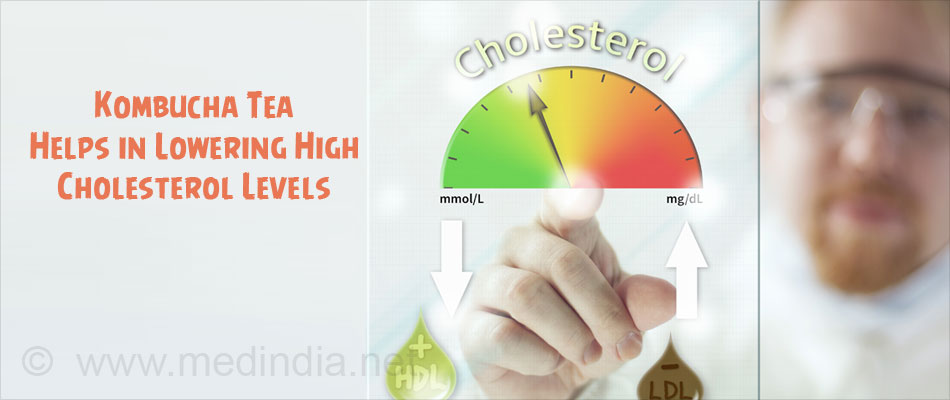 Anti-Cancer Effect
Kombucha tea is an excellent source of antioxidants. These antioxidants fight oxidative stress and help in the removal of toxins that are associated with initiation and spread of cancer.
Polyphenols present in kombucha tea interferes with progression and promotion of cancer. Thus, it prevents the development of cancer. It was further revealed that daily consumption of kombucha tea produces high resistance to cancer.
Anti-Microbial Effect
Studies have revealed that kombucha tea exerts anti-microbial activity against bacteria such as E. coli, Salmonella typhimurium and Acetic acid produced in kombucha tea during fermentation inhibits the effect of these microbes. In addition to this kombucha tea possesses anti-fungal activities against human pathogenic bacteria. Green tea kombucha beverage exhibits highest anti-bacterial potential.
Source of Probiotics
Probiotics are live bacteria that are beneficial for overall health, especially digestive system. Studies have found that during fermentation of kombucha tea, probiotic bacteria and yeast are produced.
During fermentation, bacteria and yeast form a mushroom like blob on the surface. That is why kombucha tea is also known as mushroom tea.
This layer or blob is living symbiotic colony of bacteria and yeast (SCOBY). Kombucha tea contains up to 30% Lactobacillus population (probiotics) which is very beneficial for overall health.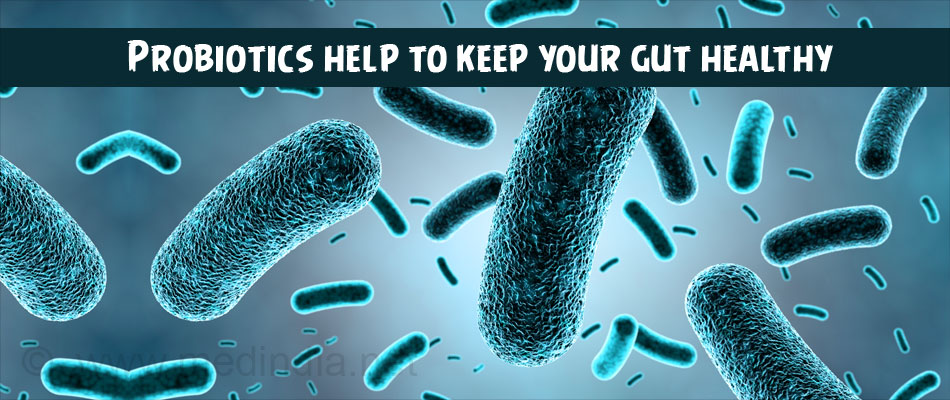 Protects Against Gastric Ulcer
Research has revealed that kombucha tea is very effective against gastric ulcers. Its strong antioxidative property protects against gastric damage.
Free radicals attack the inner lining of the stomach. Antioxidants present in kombucha tea scavenges the free radicals and thus prevents the formation of ulcers.
Furthermore, kombucha tea improves the mucus content, a thin slimy layer that protects the inner lining of the gut. Presence of mucus protects the stomach against ulcers.
Protects The Liver
Toxin overload can damage the liver and can also cause liver injury. Any damage to the liver can affect its function and this can be dangerous for the entire body.
Studies have found that consumption of kombucha tea prevents the death of liver cells. It further lowers the damage caused by toxins and free radicals to the liver.
Glucuronic acid produced in kombucha during fermentation is a very important detoxification agent. Kombucha also helps in maintaining the structure of liver cells.
Helps in Detoxification
Glucuronic acid and malic acid are two vital acids produced in kombucha tea during the process of fermentation. Glucuronic acid and malic acid bind the toxins in the liver and flushes them out of the body.
Regular consumption of kombucha tea helps in the excretion of heavy metal substances and environmental pollutants from the body via kidneys. Such a toxin removal action of kombucha tea helps in relieving gout, arthritis, rheumatism, and kidney stones which are associated with accumulation of toxins.
Bacteria and fungi formed in kombucha during fermentation are capable of inhibiting the growth of bacteria. But there are chances that pathogenic micro-organisms can contaminate kombucha tea during the preparation process.
Mold contamination is common when kombucha tea is home-made. Such a growth of mold can have toxic effects on the body. It is important to be cautious before administering such an infected beverage to individuals with poor immunity.
Some studies have reported negative effects of kombucha tea consumption on health such as
Metabolic acidosis
Nausea, Dizziness, Headache, Shortness of breath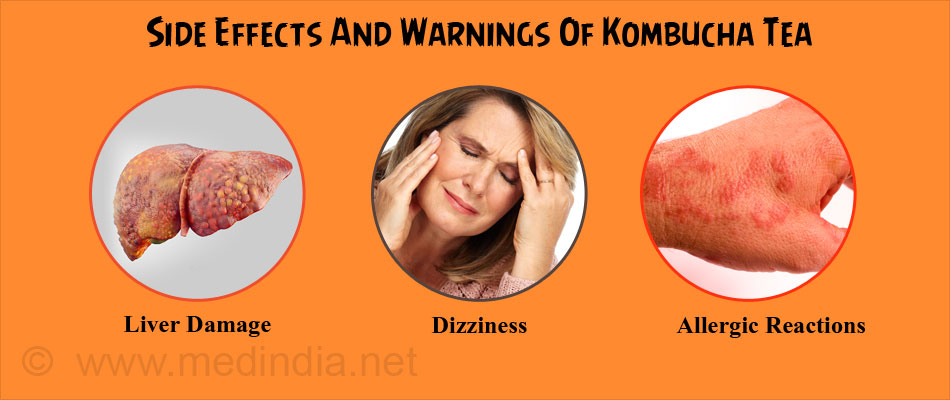 These symptoms disappeared once consumption of kombucha tea was discontinued.
Studies have also revealed that individuals with kidney problems should avoid the intake of kombucha tea. Pregnant women and lactating mothers should strictly avoid intake of kombucha tea.
Over-fermentation can increase the concentration of acetic acid in kombucha. This can further lead to leeching of chemical contaminants from the vessel in which it is fermented.
Research has found that kombucha tea when brewed in a ceramic pot for a long period of time can cause lead poisoning. Therefore, it is always better to use glass containers for storage and preparation of kombucha tea.
Avoid drinking kombucha tea with any abnormal color or odor. There is a increased risk of getting infected with toxins if large amount of kombucha tea is consumed.
Bring 3 liters of water to a boil. Continue to boil it for 5 minutes.
Add 5 bags of either green tea or black tea to the hot water. Adjust the strength of the tea as per your like and preference. You can even remove the tea bags immediately after brewing.
Turn off the heat and add 1 cup of sugar. If you add sugar while the water is boiling, the sugar will caramelize.
Cover the tea and allow it to cool until it is at room temperature (20-24°C). Pour the tea once it is cool into the glass jar.
Add a sample of already prepared kombucha as a starter. You can purchase starter from the market or add 1/4- 1/2 cup white distilled vinegar to it.
Add symbiotic colony of bacteria and yeast (SCOBY) into the tea.
Cover the jar with a cloth. Place the jar in a warm place where the temperature should be around 21-30°C.
Keep the jar undisturbed for a week. With the help of a funnel, pour the finished tea in a container where it can be stored.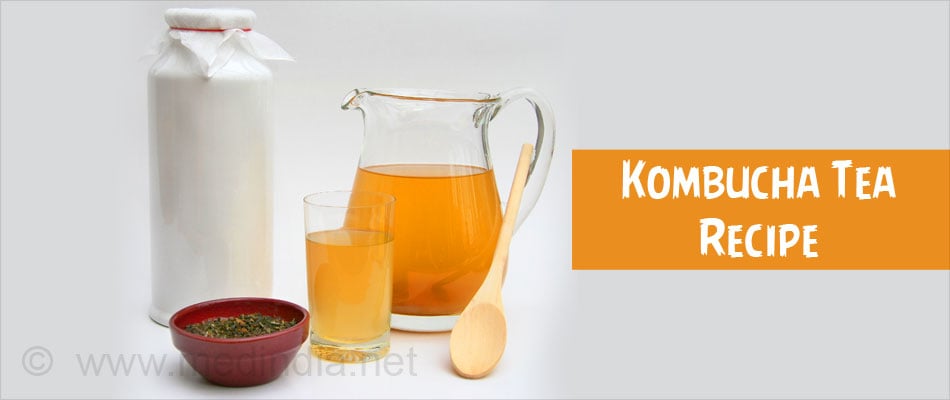 References:
Kombucha fermentation and its antimicrobial activity. -

(https://www.ncbi.nlm.nih.gov/pubmed/10888589)

Comparative healing property of kombucha tea and black tea against indomethacin-induced gastric ulceration in mice: possible mechanism of action. -

(https://www.ncbi.nlm.nih.gov/pubmed/21776478)
Latest Publications and Research on Health Benefits of Kombucha Tea