What is Fruit Waxing?
Fruit waxing has gained a lot of attention recently and has been a topic of debate among the medical communities. Coating fruits and vegetables with wax have become a common practice to improve post-harvest consumer appeal. The fruit waxing technique gives fruits their artificial freshness and cleanliness. Some wax coating helps to retain the moisture in the fruits and also inhibits mold growth. Recently, there have been a lot of controversies on using fruit waxing and eating these wax-coated fruits that leaves the consumers in a total dilemma.
Wax-coated fruits may appear fresh, have a long shelf life, but can also have harmful effects on the human health. This article explains all about fruit waxing and how safe is it for human consumption.
Fruit waxing is a technique of coating fruits with either natural edible wax or artificial wax. Fruit waxing leaves a thin shiny layer on the surface of fruit in addition to or as a replacement of natural wax produced by the fruit itself. The main objective of fruit waxing is to provide a barrier to moisture loss, prevent bruising, prevent physical damage, and delay browning of fruits.
Apple is one of the most common fruits that are covered with artificial wax. Wax coated fruits are appealing to consumers as these appear fresh and clean compared to uncoated fruits that show browning and lose their firmness quickly. Fruit waxing reduces the loss of water from fruits and thus preserves texture and flavor. Wax-coated fruits also show slow ripening as the wax acts as a barrier to environmental gases and water vapour.
Advertisement
Many fruits and vegetables produce their own natural protective wax coating called cuticle that consists of substances such as fats, resins, or waxes. This natural wax coating on fruits helps to prevent moisture loss from inside fruit flesh. However, the natural protective layer easily wears off after the fruit is plucked from the tree and during the process of packing and transportation.
Therefore, to retain the moisture in the fruit and make it appear as fresh as farm picked till it reaches the consumer, most fruits are covered with artificial waxes. The fruit wax coatings may be composed of polysaccharides, proteins, lipids, and composites. The fruit waxing itself does not control decay of fruits and hence the wax coating is combined with some chemicals.
The fruit waxing method can be manual or automated. During manufacturing, the waxy coating material is dispersed and dissolved in a solvent such as water, alcohol, a mixture of water and alcohol.
Additives such as plasticizers, antimicrobial agents, minerals, vitamins, colors, or flavors can be added in this process. The film solutions can be applied to fruits by several methods such as dipping, spraying, brushing, and panning followed by drying.
1. Manual Rubbing
The process is performed by applying the wax coating over fruits surface using a brush with soft bristles or absorbent cloth. After application of edible wax, the fruits are air dried for about 15 minutes. It is a time-consuming process and also requires manpower.
2. Dipping
The dipping method for fruit waxing is used when the fruits are coated with paraffin wax.
The fruits are dipped in melted paraffin wax coat for about a second. The paraffin solidifies immediately on the fruit's surface after it is removed from the wax bath.
3. Brushing
This is an automated method of fruit waxing. The liquefied wax is dispensed over the brush that continuously applies a thin layer of wax coating over fruits surface. For even application of edible wax, the brush needs to be completely saturated with the wax. The wax can be sprayed using a pump through low-pressure nozzles.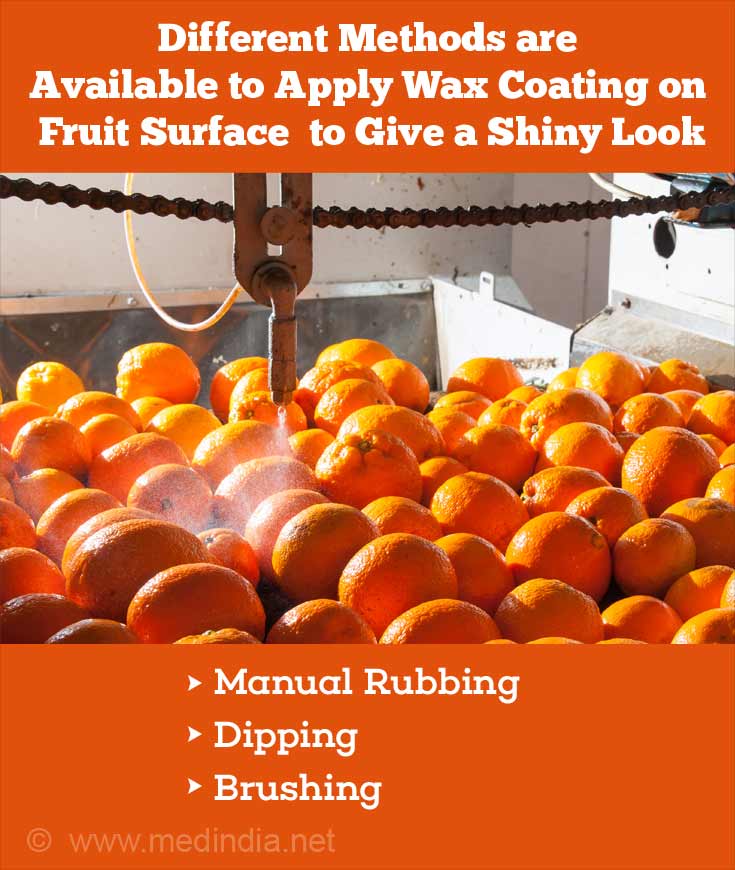 Whether wax-coated fruits are safe to eat or not totally depends on the kind of wax coating used. Research by some scientific authorities suggests that food-grade wax is safe to eat. These are the edible waxes that are considered safe as they are not broken down by the body for absorption and are eliminated by the body.
However, most fruit waxes are mixed with morpholine and its derivatives (MAID) to ensure that they are applied thinly and evenly. In the presence of nitrate, contained in diet, morpholine can be chemically nitrosated to form N-nitrosomorpholine (NMOR) a potent carcinogenic compound.
Morpholine is also believed to cause impaired liver or kidney function. Morpholine at the levels 0.03-0.3ppm, is likely to be of low-risk to human health. However, above this level morpholine can be toxic and unsafe. Chronic consumption of wax-coated fruits and vegetables containing morpholine could present a slight risk for cancer in certain individuals.
The fruit waxes are mixed with additives such as glycerols, lactic acid or acetic acid to adjust the pH of coating material. In addition, the fruit waxes may also contain traces of preservatives, antimicrobial agents, and texture enhancers.
Morpholine is present in most fruit waxes to give thin and even films. The safe dose of morpholine in humans is 4.3ng/kg body weight/day. Repetitive consumption of morpholine as well as some other chemical agents present in fruit waxing can be hazardous to health
The health risks associated with regular consumption of artificially wax coated fruits include,
1. Risk of Cancer
Morpholine is used commonly as a solvent and emulsifier in making the wax coatings for fruits and vegetables. Morpholine, by itself, in the doses that are present in fruits and vegetables does not constitute a health risk.
However, inside the body when it comes in contact with nitrate, it forms Nitrosomorpholine (NMOR), a genotoxic carcinogen that poses a risk of liver or kidney cancer.
2. Risk of Liver and Kidney Damage
Experts report that on oral and parenteral administration or after inhalation, morpholine is well absorbed and is distributed in the body fluids. Ingestion of morpholine through daily consumption of wax-coated fruits can affect liver and kidney function.
3. Allergies
Many edible coatings are made from ingredients that could cause allergic reactions. These allergens include protein substances such as soy, whey protein, casein, and peanut proteins.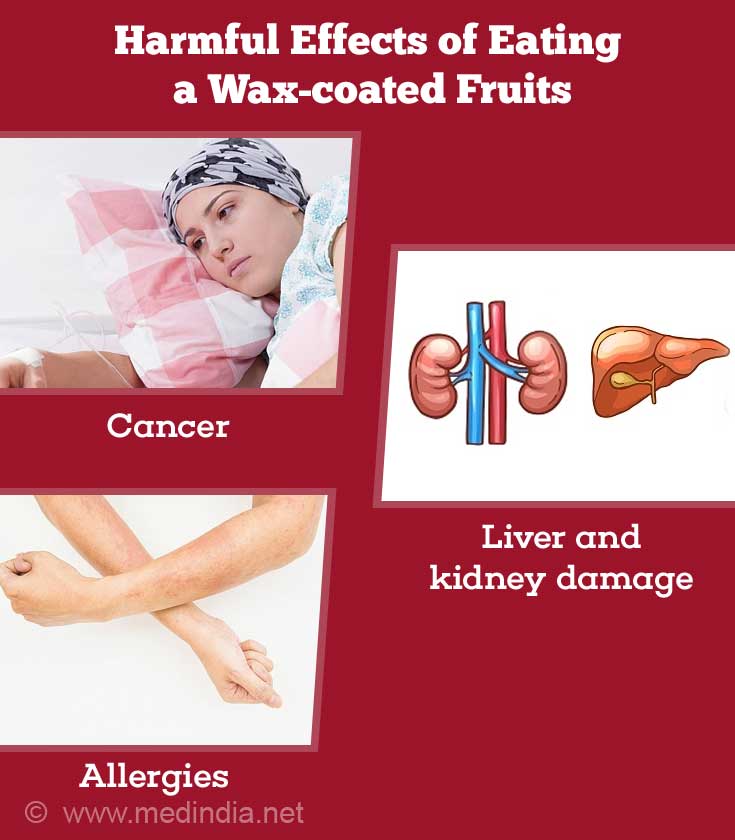 The use of morpholine as a glazing agent in fruit waxing is common. Although it is present in negligible amounts in the waxy coating, accumulation of NMOR by daily intake of coated fruits/vegetables is a serious threat to health. To overcome this problem and prevent the health hazards of fruit waxing follow these tips given below:
Follow the mantra of 3ws: Wipe, wash and soak the wax-coated fruits in warm water for a longer time. You may also scrub the skin with a brush to get rid of edible wax coating on fruits.
Don't fall prey to artificial freshness: Do not get influenced by bright colors of fruits and vegetables that appear shiny.
Buy more local and seasonal fruits: Fruits that are available off season may be the ones that are stored for a long time with the help of wax coatings. Try to buy fruits from local farmer or buy fruits at the local market that are in the season.
Read the labels carefully: The FDA makes it mandatory for the packers and providers to mention the presence of wax coat as 'food grade animal or vegetable wax'. You may also look for fruits labeled as 'No wax or resin coating'.
Prefer natural edible wax: Look for fruits that have a natural wax coating such as aloe vera gel or Chitosan, which do not contain amines and are also natural alternatives to synthetic coating.
Eat fruits without skin: If you are too concerned about health hazards of fruit waxing peel the skin of the fruit before you eat.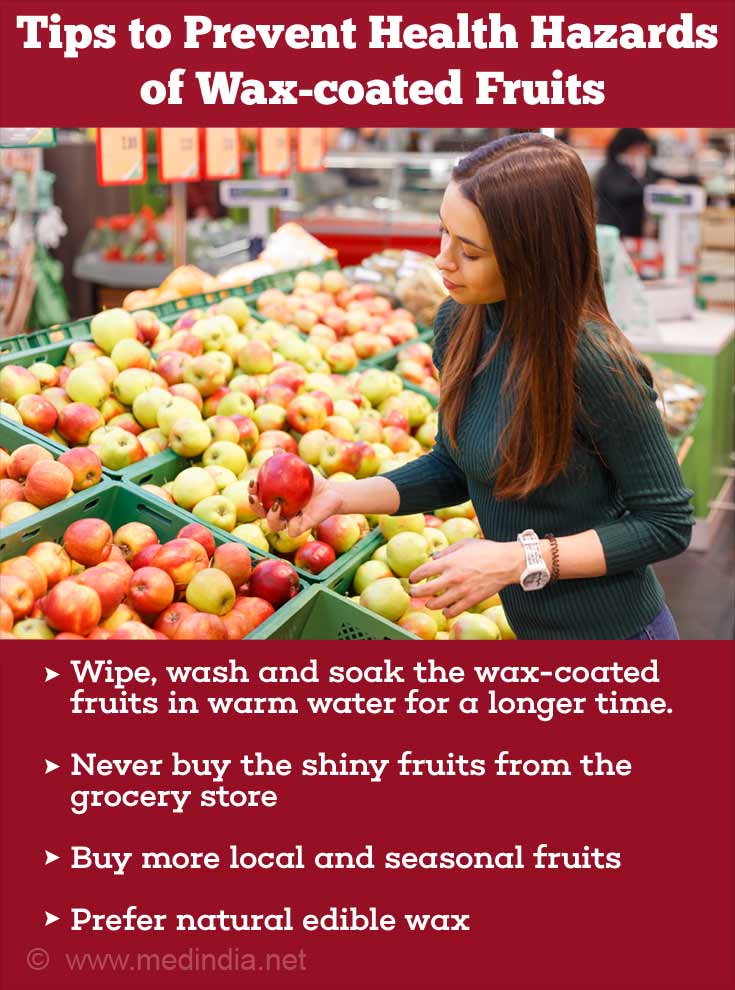 References:
Kumar R, Kapur S. Morpholine: A Glazing Agent for Fruits and Vegetables Coating/Waxing. International Journal of Science Technology & Engineering.2016; 2(11): 94-697.
Kumar R. Health effects of morpholine based coating for fruits and vegetables. International Journal of Medical Research & Health Sciences.2016; 5 (9):32-38.
Vargas M. Development of edible coatings for fresh fruits and vegetables: possibilities and limitations. Fresh Produce. 2008; 2(2): 32-40.
Dhall RK. Advances in edible coatings for fresh fruits and vegetables: a review. Crit Rev Food Sci Nutr. 2013; 53(5):435-450.
Banks NH, Jason W. COATING TO ENHANCE FRUIT liFE. Proceedings from Conference '97: Searching for Quality. Joint Meeting of the Australian Avocado Grower's Federation, Inc. and NZ Avocado Growers Association, Inc., 23-26 September 1997. J. G. Cutting (Ed.). Pages 46-54.
Dávila-Aviña JE, Villa-Rodríguez JA. Effect of edible coatings on bioactive compounds and antioxidant capacity of tomatoes at different maturity stages. J Food Sci Technol. 2014; 51(10):2706-2712.
Supapvanich S1, Mitrsang P. Effects of fresh Aloe vera gel coating on browning alleviation of fresh cut wax apple (Syzygium samarangenese) fruit cv. Taaptimjaan. J Food Sci Technol. 2016; 53(6):2844-2845.
Postharvest Handling Technical Bulletin. WAXING FRUITS AND VEGETABLES. Technical Bulletin No. 33 June 2004 -

(http://pdf.usaid.gov/pdf_docs/Pnacy849.pdf)

Right to know. Hazardous substance fact sheet -

(http://nj.gov/health/eoh/rtkweb/documents/fs/1315.pdf)
Latest Publications and Research on Fruit Waxing
Please use one of the following formats to cite this article in your essay, paper or report:
APA

Melita Fernandes. (2018, February 28). Fruit Waxing - What it is? Are they Safe to Eat?. Medindia. Retrieved on May 26, 2022 from https://www.medindia.net/dietandnutrition/fruit-waxing.htm.

MLA

Melita Fernandes. "Fruit Waxing - What it is? Are they Safe to Eat?". Medindia. May 26, 2022. <https://www.medindia.net/dietandnutrition/fruit-waxing.htm>.

Chicago

Melita Fernandes. "Fruit Waxing - What it is? Are they Safe to Eat?". Medindia. https://www.medindia.net/dietandnutrition/fruit-waxing.htm. (accessed May 26, 2022).

Harvard

Melita Fernandes. 2021. Fruit Waxing - What it is? Are they Safe to Eat?. Medindia, viewed May 26, 2022, https://www.medindia.net/dietandnutrition/fruit-waxing.htm.
Request an Appointment with a Doctor (Nutrition Expert)
Ms. Bharathi Ravi
B.Tech, M.Tech
2 years experience

Teleconsult Now
View Profile
Mrs. Uma Maheshwari
MSc
5 years experience
kadhri Aarogya, Coimbatore
Teleconsult Now
View Profile
Dr. Varsha
PhD
39 years experience

Teleconsult Now
View Profile
Dr. Sunita Malhotra
DDPHN, MSc
30 years experience
Pro Health Diet Clinic, Sector 37-C
Teleconsult Now
View Profile
View All