Overview
All the countries are taking adequate measures to prevent the spread of COVID-19. Good nutrition is crucial for a healthy lifestyle during such difficult times of a pandemic.
Staying physically active and having a healthy diet plan are the two important objectives during this pandemic. However, limited access to fresh food may result in need to modify diet planning.
Tips to Stay Fit and Healthy During Lockdown
WHO/Europe has prepared a set of general tips that should be followed to stay fit and healthy during the lockdown. These are as follows:
Make a Plan – Buy What You Need

There are many reports that advice you on shopping during the lockdown. Panic buying behavior may have a negative impact and result in overpricing of food items and over-consumption of food. It is particularly important to plan your diet and purchase accordingly. You might wish to stock groceries in excess, but first, make sure you utilize the stuff already in your pantry. This prevents wastage of food.

Plan the Usage of your Ingredients Well

Use fresh ingredients and those with a shorter shelf life. Prefer buying fresh fruits, vegetables, and low-fat dairy products as these are easily available through online delivery services. Frozen fruits and vegetables are a good option only if fresh fruits & vegetables are unavailable.

Prepare Home-Cooked Food

During regular life, many individuals fall short of time to prepare home-cooked meals. During this pandemic, health experts advise people to consume healthy home-cooked food. Avoid eating food from restaurants.

Make Use of Contactless Delivery Systems

Avoid going out unnecessarily. India has advanced contactless delivery systems for groceries, electronics, garments, etc. This reduces human interaction, also is useful and supportive during the self-quarantine period too. The transportation temperature is one of the most important parameters to keep the food safe. Transportation temperature below 5°C or above 60°C is safe.

Keep a Fixed Portion Size to Avoid Overeating

It can be challenging to get the right portion size for you during this pandemic. Stress leads to overeating, especially 'comfort foods' rich in sugar, defined as 'food craving.' The comfort foods are mainly rich in simple carbohydrates and can reduce stress as they encourage serotonin production with a positive effect on mood. However, the food craving effect of carbohydrates is linked to an increased risk of developing obesity and cardiovascular diseases.

Follow Safe Food Handling Practices

A critical part of healthy eating is keeping the food safe. People should follow safe food hygiene/handling practices to avoid food contamination and foodborne diseases.
Keep your hands, kitchen, and utensils clean.
Separate the raw and cooked food, especially raw meat.
Cook your food thoroughly.
Keep your food at a safe temperature, either below 5°C or above 60°C.
Use clean water and raw material for cooking.
Stay Physically Active During Lockdown
Staying at home for prolonged periods of time can pose a significant challenge for remaining physically active. Low levels of exercise can have negative effects on the health, and well-being of individuals. WHO recommends 150 minutes of moderate-intensity or 75 minutes of vigorous-intensity physical activity per week.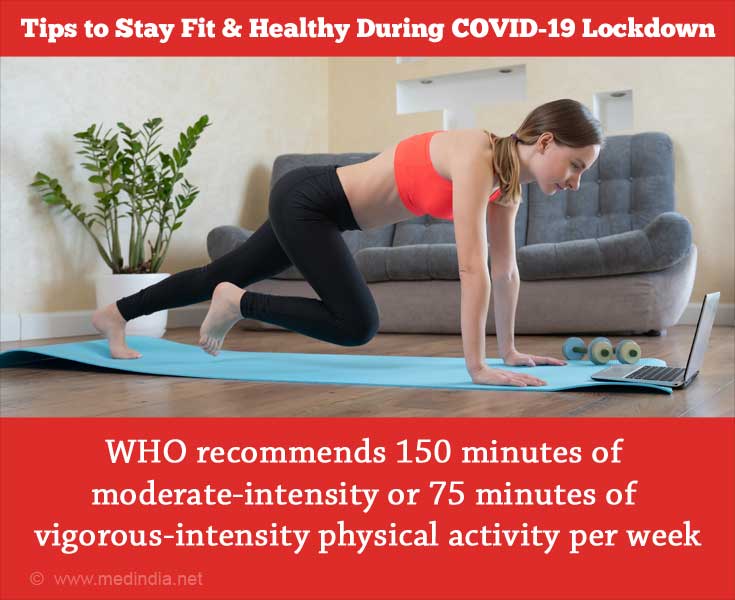 These recommendations can be achieved even at home with limited space. Simple tips on how to stay active while at home:
Take short active breaks during the day
Follow virtual/online exercise program
Reduce the sedentary time by standing up and walking whenever possible
Practice simple mediation and deep breaths exercises
Proper nutrition and hydration are vital during this pandemic. People having a balanced diet tend to be healthier with stronger immune systems and have a low risk of chronic illnesses and infectious diseases.
References:
Food and nutrition during self-quarantine: what to choose and how to eat healthily -

(https://www.euro.who.int/en/health-topics/health-emergencies/coronavirus-covid-19/news/news/2020/3/food-and-nutrition-during-self-quarantine-what-to-choose-and-how-to-eat-healthily)

Healthy diet -

(https://www.who.int/news-room/fact-sheets/detail/healthy-diet)

Nutrition advice for adults during the COVID-19 outbreak -

(http://www.emro.who.int/nutrition/nutrition-infocus/nutrition-advice-for-adults-during-the-covid-19-outbreak.html)

Pharmacotherapy Handbook by Joseph T Dipiro