Introduction
Antioxidants are natural or artificial substances available in foods which help prevent cell damage caused by harmful free radicals. The human body is constantly fighting against infections and diseases. The body performs various functions such as breathing, physical activity to name a few. These functions produce free radicals which damage healthy cells resulting in heart disease, cancer, and many other diseases. Antioxidants play a crucial role to neutralize the free radicals by binding to oxidants and thus protect the cells from damage. Antioxidants are good for overall health and here are some benefits of antioxidants:
Free radicals are unstable molecules which are generated during physical activity and when food converts into energy. The body also gets exposed to free radicals from external sources including cigarette smoke, air pollution and UV radiation from the sunlight. These free radicals are harmful and can cause damage to cell walls, cell structures and the genetic material (DNA). In a normal cell, the formation and removal of free radicals are balanced. Overload of free radicals in the cell may enter a state called Ďoxidative stressí which results in certain diseases including heart disease, liver disease, cancers and many other diseases such as eye lens deterioration, joint inflammation, damage of nerve cells in the brain causing Parkinson's or Alzheimer's.
Antioxidants can neutralize the free radicals and thereby, prevent the cell damage. Hence, antioxidant rich foods help to cut the risk of various diseases. Plant foods are primary sources of antioxidants. Vegetables and fruits have a high content of antioxidants. Antioxidants are also available in the form of dietary supplements. Common forms of antioxidants available in the foods are Beta-carotene, Lutein, Lycopene, Selenium, Vitamin A, Vitamin C and Vitamin E.
Human skin is constantly getting exposed to the air, solar radiation and other environmental and chemical pollutants. Exposure to ultraviolet rays (UVR) results in the generation of free radicals in the form of singlet oxygen, superoxide radicals, and peroxide radicals. These highly reactive molecules can damage carbohydrates, nucleic acids, lipids, and proteins and therefore, are responsible for erythema, premature aging of the skin, photodermatoses and skin cancer.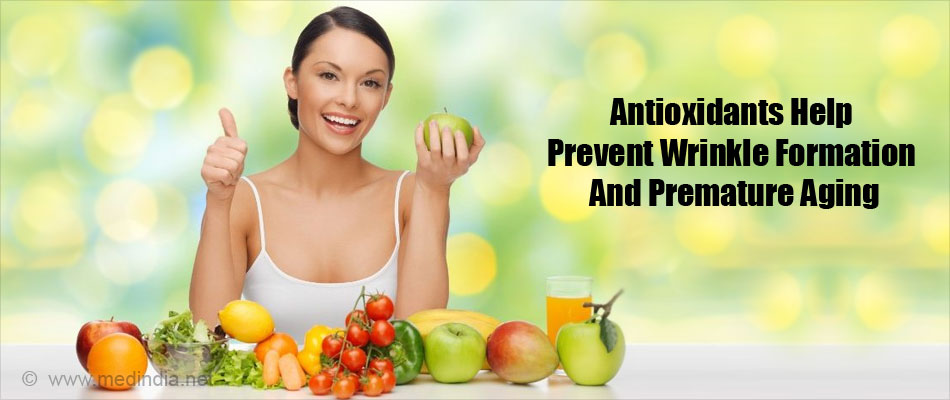 Skin is equipped with natural antioxidants. Epidermis layer of the skin has plenty of vitamin E, antioxidants like superoxide dismutases, and glutathione peroxidases. Apart from these, skin epidermis and dermis also contain huge amounts of antioxidants including ascorbic acid, uric acid and glutathione. Antioxidants present in the food helps to keep up the oxidative balance in the cell and thus protect the skin health. Antioxidants help to lower the free radical damage of collagen and elastin and thus prevent wrinkle formation and other signs of premature aging. Studies reported that antioxidants including carotenoids, tocopherols, and flavonoids, vitamins (A, C, D), and essential omega-3- fatty acids help to promote skin health.
Advertisement
The immune system carries out protective function against external pathogen with the help of free radicals. Excess production of free radicals can lead to oxidative stress which can cause damage to immune cells resulting in impaired immune function. The human body is well equipped with an antioxidant defense mechanism including enzymatic antioxidants like glutathione peroxidase and glutathione reductase, catalase and superoxide dismutase as well as non-enzymatic antioxidants such as thiol antioxidants, melatonin, coenzyme Q, and metal chelating proteins which help to neutralize excessive free radicals. Moreover, antioxidants from nutrients including vitamin C, vitamin E, carotenoids, polyphenols, and trace elements also support to lower the harmful effects of free radicals.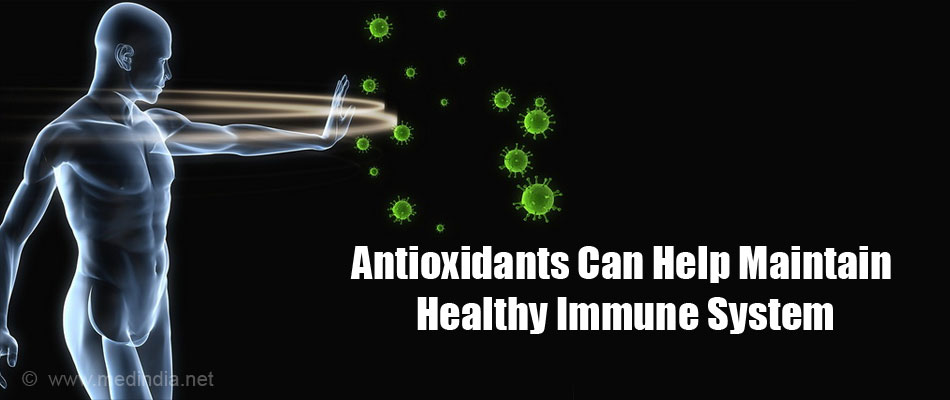 Other conditions
Oxidative stress caused due to free radicals is harmful and results in age-related macular degeneration and cataracts by altering various cell types in the eye. Oxidative stress is also accountable for various renal diseases including glomerulonephritis and tubulointerstitial nephritis, chronic renal failure, proteinuria, uremia. Antioxidant therapy helps to prevent chronic ailments such as heart disease, stroke, memory loss, depression, arthritis, cataract, and cancer.
Antioxidants present in our daily diet plays a key role in the neutralization of oxidative stress. Vegetables and fruits are high in antibiotics. It is evident that intake of lots of fruits and vegetables lowers the risk of certain diseases.
Advertisement
Examples of antioxidants are:
Carotenoids: Vitamin A derivatives are known as carotenoids. For example ' - carotene, astaxanthin, lycopene, and retinol. Tomatoes are the major source of lycopene. Study report confirms that high consumption of lycopene helps to cut the occurrence of prostate cancer. Carrots, pumpkin, sweet potatoes, mangoes and papaya contain ' - carotene. Astaxanthin is found in microalgae, yeast, salmon, trout, krill, shrimp, crayfish and crustacea.
Selenium: It is a trace element and available in the soil, water, vegetables (such as garlic, onion, grains, nuts, soybean), sea food, meat, liver, and yeast.
Vitamin C: Ascorbic acid is the name of vitamin C. It has antioxidant properties along with anti-carcinogenic properties. Most of the fruits and vegetables contain some amount of vitamin C. Cantaloupe, citrus fruits and juices, kiwi fruit, mango, papaya, pineapple, berries (strawberries, raspberries, blueberries and cranberries) have high content of vitamin C. Vegetables including green and red peppers, spinach, cabbage, turnips greens, sweet and white potatoes, winter squash, tomatoes contain higher amount of vitamin C.
Vitamin E: It is a highly potent antioxidant and helps to prevent colon, prostate and breast cancers, heart diseases, and other illnesses.
Lutein: It is found in green leafy vegetables including spinach, collards, and kale. It is also available in broccoli, corn, peas, papayas, and oranges.
Flavonoids: They are polyphenolic compounds and have antioxidant properties. Green tea, grapes (wine), apple cocoa (chocolate), soybean, curcuma, berries, onion, and broccoli are primary natural source of flavonoids.
Antioxidants -

(https://www.betterhealth.vic.gov.au/health/healthyliving/antioxidants)

About Antioxidants -

(https://nccih.nih.gov/health/antioxidants/introduction.htm)

The Health Benefits of Antioxidants -

(http://www.antioxidants.org/)

Anti-Oxidants & Heart Health -

(https://my.clevelandclinic.org/health/articles/antioxidants-heart-health)

Tyrrell RM. Ultraviolet radiation and free radical damage to skin. Biochem Soc Symp. 1995; 61: 47- 53.
Bhattacharya S. Reactive oxygen species and cellular defense system. Free Radicals in Human Health and Disease. 2014; 17-29.
Stahl W et al. Carotenoids and carotenoids plus vitamin E protect against ultraviolet light-induced erythema in humans. Am J cLIN nUTR. 2000; 71(3): 795-798.
Pai VV et al. Antioxidants in dermatology. IDOJ. 2014; 5(2): 210-214.
Schagen SK, et al. Discovering the link between nutrition and skin aging. Dermatoendocrinol. 2012; 4(3): 298-307.
Amir Aslani B, et al. Studies on oxidants and antioxidants with a brief glance at their relevance to the immune system. Life Sci. 2016; 146: 163-73.
Lien Ai Pham-Huy et al. Free radicals, antioxidants in disease and health. Int J Biomed Sci. 2008; 492): 89-96.
Please use one of the following formats to cite this article in your essay, paper or report:
APA

Amrita Roy. (2022, June 17). Benefits of Antioxidants. Medindia. Retrieved on Mar 26, 2023 from https://www.medindia.net/dietandnutrition/benefits-of-antioxidants.htm.

MLA

Amrita Roy. "Benefits of Antioxidants". Medindia. Mar 26, 2023. <https://www.medindia.net/dietandnutrition/benefits-of-antioxidants.htm>.

Chicago

Amrita Roy. "Benefits of Antioxidants". Medindia. https://www.medindia.net/dietandnutrition/benefits-of-antioxidants.htm. (accessed Mar 26, 2023).

Harvard

Amrita Roy. 2021. Benefits of Antioxidants. Medindia, viewed Mar 26, 2023, https://www.medindia.net/dietandnutrition/benefits-of-antioxidants.htm.
Latest Publications and Research on Benefits of Antioxidants
Request an Appointment with a Doctor (Nutrition Expert)
Dt. Ritu Kumari Mishra
DDHN, BSc, MSc
1 year experience

Dt. Unnati Sisodia
Diploma
2 years experience

Komal Kumar
16 years experience

Dt. Priti Kumari
DNHE, Diploma in Medical Nutrition, Medical Nutrition, Diploma in Yoga and Naturopathy, PGDHM, DND, DYTT
2 years experience
Aarogyam Fitness, Kadugodi,Whitefield, Bengaluru Urban
View All