Battle Between Kids And Veggies
The battle between kids and veggies is as old as time. Encouraging children to eat veggies is a huge challenge for the parents. Vegetables are chock full of nutrients and the antioxidants present in them boost your child's immunity. Therefore, it is important to help your little one enjoy veggies. Healthy eating habits developed during childhood, set up healthy habits for life.
Here Are Some Tips And Tricks To Get You Started
1. Eat Together
Children learn from their parents and they often try to copy their elders. Develop a habit of eating together. So, whenever your child sees you eating vegetables in the form of salads or curries, he/she will also choose to eat vegetables.
Besides this, parents can explain their kids in simple words how nourishing and tasty veggies are. For example- parents can tell their kids that eating veggies daily will make them strong and intelligent.
2. Give them Time
When kids don't eat veggies, parents often get worried. But, parents should not lose hope because this is completely normal.
Kids take time to accept and like the taste and flavor of veggies. They may not like veggies initially, but if you encourage them to try and eat the veggies they will surely start liking it.
Introduce one or two vegetables at a time and serve them with different accompaniments. For example- your child may not like a particular vegetable with a flatbread or roti, but he/she may love to have it with rice.
3. Sauce It Up
Parents can spice up the veggies with some dips and sauces. Using some dips can make boring vegetables interesting for your little one. Let's have a look at how this can be done:
Serve steamed or boiled broccoli florets with low-fat cheese dip
While stir-frying vegetables add some tomato-based dip or pesto
Make your own garlic butter at home. Add this butter to boiled corns
4. Reward Your Little One
Praising your kid every time he tries a new vegetable will encourage him to like and eat the vegetable more often. Children love to be praised, however parents should not go overboard and make this a habit.
Parents should not be harsh with their kids if they are not eating vegetables, just try another time. Praising the kid will also make him realize that he has eaten healthy today, which is a good eating habit.
Advertisement
5. Make Veggies Attractive
Vegetables come in different colors, so why not make use of these beautiful colors? Kids find bright colors very attractive.
To make the boring veggies interesting, cut them into different shapes. Decorate these veggies on a plate to give them an attractive look.
For example, use colorful bell peppers, sweet corns, beetroot, purple cabbage to decorate the plate. Cut them in squares, circles or hearts with the help of a cookie cutter.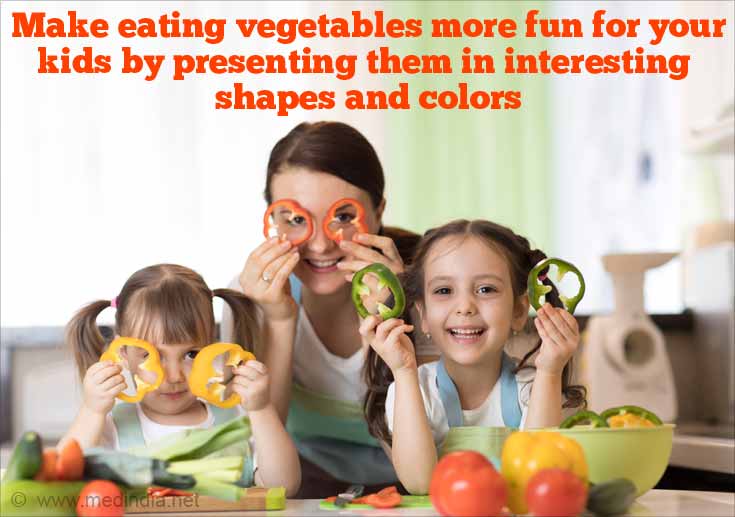 6. Sneak Veggies into Your Kids Diet
Kids may not like to eat vegetables in the visible form. But, parents can easily make them eat veggies without even letting them know and vegetable puree comes as a rescue.
You can add vegetable puree to different kinds of pasta and rice preparations. You can even replace plain water with vegetable puree while kneading the flour.
Here are some vegetable puree ideas you can use to make the food more delicious:
Spinach puree - Add this puree to different kinds of pasta, rice preparations or parathas and use spinach to prepare pestos
Carrot puree - It can be used to make a carrot dip or carrot hummus, which can be applied on bread slices to make a carrot sandwich
Tomato puree - Make tomato rice or tangy pasta using this puree
Pumpkin puree - You can add this puree to puddings, use it as a spread, add it to pancake batter or even pastas.
Advertisement
7. Make Veggies Taste Better
Try to make the veggies tasty and interesting. Kids usually do not like boiled or steamed veggies. By simply roasting or stir-frying the veggies you can enhance their taste.
Add some fresh herbs to the veggies to make them more delicious. You can also use homemade herb butter or flavored oil to prepare these veggies.
Just like veggies, herbs are great for your kid's health. They boost the immune system and protect the body against bacterial infections and cold and flu.
8. Offer Vegetables as Snacks
If your kid doesn't like veggies in the form of curries and salads, offer veggies as snacks. Here are some great vegetable-based snack options:
Vegetable sandwich - For example, mixed veggie sandwich, spinach and corn sandwich and mushroom sandwich. You can even apply a vegetable puree on bread slices and toast it to make a delicious sandwich
Roasted tomatoes with cheese
Carrot, celery and beetroot sticks with hummus or yogurt dip
Garden pizza - A pizza where you add different vegetables as toppings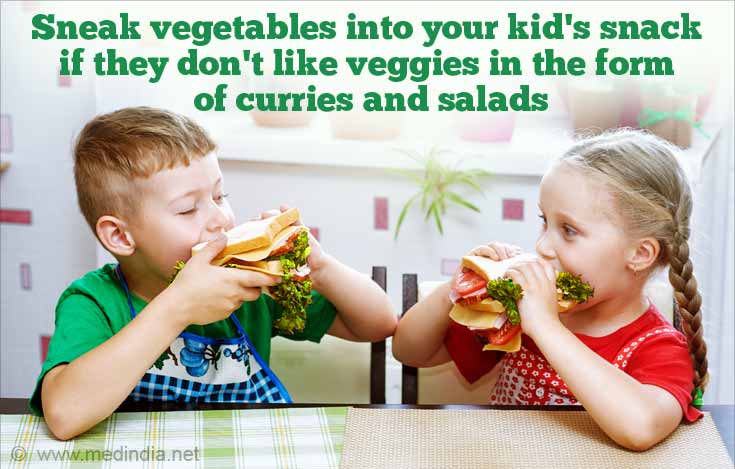 Delicious Vegetable Recipes For Kids
Here are some tasty and easy vegetable recipe ideas for your kids, which they would love to eat:
Broccoli or cauliflower crust pizza
Spinach or broccoli cheese sandwich
Vegetable pasta with bell peppers, sweet corns, carrot, broccoli and mushroom
Spinach pesto with bread
Roasted sweet potato and butter squash
Baked kale chips
Carrots coated with sesame seeds
Colorful roasted veggies
Latest Publications and Research on Amazing 8 Tips to Get Your Kids to Eat More Veggies
Request an Appointment with a Doctor (Nutrition Expert)
Ms. Pandi Alagammai Thillainathan
BSc, MSc
1 year experience
Online mode, Porur, Chennai
Ms. Bharathi Ravi
B.Tech, M.Tech
2 years experience

Ms. Jaichitra R
DNHE
1 year experience

Ms. Nishita Suratkal
BSc, MSc
5 years experience
Nutrify your Gut, Thakur Village, Mumbai
View All